Frontline Compassion Ministry
Tweet me!
Friday, 01 October 2010 06:41
God Cares

"I never want to go back"
-Marjorie 10 years old

This is the story of three young girls and a little boy that have existed on the streets of a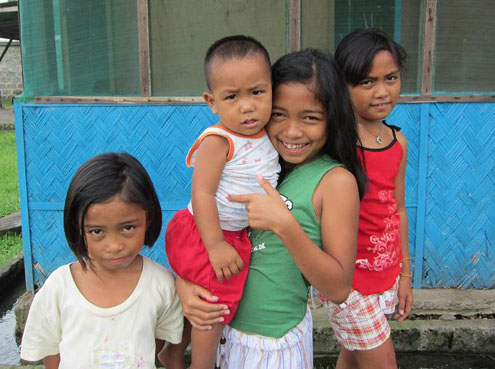 prominent red light district in Manila. The place is darker than a thousand midnights as pimps walk the streets looking for vulnerable young women. If not for the grace and mercy of God these girls, Nicole 6 years old, Stephanie 8 years old, Marjorie 10 years old and M.J. a 1 year old little boy, would be lost in a lawless world. Although they have a mother that loves them deeply, it was common for the mother and children to be abused by a boyfriend named Rafael who was often high on drugs. If Rafael was a mile away the mother would speak in whisper to us, for fear of being hurt by Rafael.  We met them while doing a feeding ministry in Manila; we would often return bringing clothes and food as God would provide.
Last Updated on Wednesday, 20 October 2010 07:15
Read more...
Tweet me!
Written by Administrator
We continue reaching out and ministering to people in need in prison, the hospital, the dumpsite, squatter areas, and abandoned children on the streets. Seeing or visiting kids who are living on the streets is always a particularly heartbreaking experience. The kids are so unkempt, dirty, and visibly unhealthy. Most will eat only by searching through the downtown garbage areas or by begging. Due to severe malnutrition some of the kids have brain damage, or as a result of months (or years) of addiction to sniffing "rugby" (glue). They sniff the glue not only to get high, but to alleviate their hunger pains. A few are in such bad condition from the addiction that they no longer talk sensibly. Most people consider them a nuisance, but we believe they are made in the image of God, beloved, precious, and as valuable as any person that ever lived. So we try to show them the love of God, visiting them to give meals, basic friendship, Godly advice, and to encourage them to leave the streets and participate in our program.
Read more...
| | | | |
| --- | --- | --- | --- |
| Frontline Rescue Ministries | | | |
Tweet me!
Written by Administrator
Actually, we see all ministry to the lost as "rescue" ministry. Jeff Rice, who serves in such "rescue" outreaches, embodies the heart of a special
love for people that is inspiring and contagious. He continues leading efforts of outreach to the city Jail, to kids that are still living out on the streets (like Daniel, pictured with Jeff) , and also a growing ministry to numerous employees working in shops throughout the area. With others at Frontline he also envisions a rescue ministry to the thousands of young women "trafficked" and trapped in a life of prostitution.
Read more...